for your next home or construction project

Construction Drawings
by: yorck Lindner
Registered and Insured Building Designer
Over 40 years of experience to the residential builder and
the Construction Industry of Central and Eastern Ontario
BILL 124 Requirements - All Plans are prepared by a Certified Building Designer
who is Registered with the Ontario Ministry of Municipal Affairs & Housing (MMAH)
as a "Qualified Designer" in Ontario; has a Regsistered BCIN
(Bldg. Code Identification Number), and is Insured in accordance with Bill 124.

Sample Drawings Set "1" "A" "A1" "B1" "C1"
Want to use your own Drawings ?
We will gladly review, revise and approve them.
see our contact info below
a little more about me on "Linked in"
Or see us on "facebook"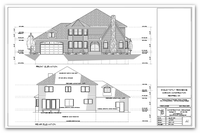 Concept Sketches to complete Design construction drawings ready for Building Permit application.



the weather in Denbigh
Contact : yorck Lindner, anywhere (519) 504-1470 cell

Denbigh ON (613) 519-5356
Kitchener ON (519) 504-1470
Or fill in the form below - we will gladly answer questions